We provide the largest methyl bromide emissions controls systems in the world.
Value Recovery is an engineering services firm that provides solutions to customers desiring large scale, up to 300,000 ft3 (8,500 m3), emissions controls of their Quarantine and Pre-shipment fumigation operations. With our project engineering partners, we design, build and start-up custom facilities to control the emissions of methyl bromide emitted from fumigation operations before it reaches the atmosphere and then chemically destroy the methyl bromide with our patented technology before it harms workers, bystanders or the ozone layer.
The efficiency of our systems has been shown to be greater than 94% chemical destruction of methyl bromide and has been documented in four independent California state sanctioned source tests. We provide a performance guarantee that ensures customers of on-going performance.
Value Recovery Methyl Bromide Scrubbing System at Guadalupe Cooling, Nipomo, CA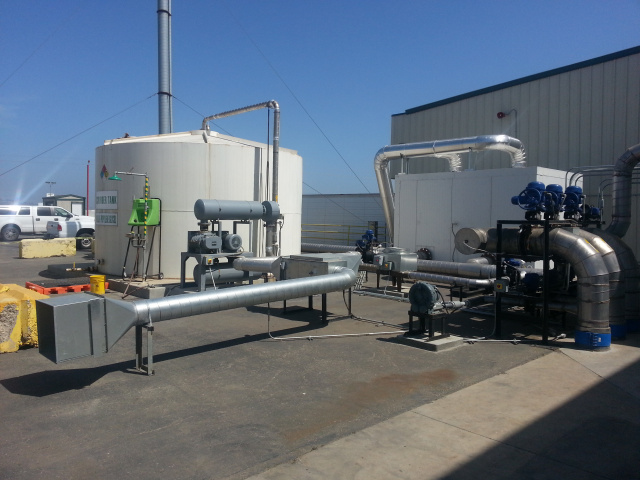 Along with our project engineering partners, we offer the ability to design and build fumigation emission systems to meet detailed project specifications.
Design Services
Cycle Time Analysis

Cargo Throughput Evaluation

Fumigation Chamber Design

Emissions Control System Strategy
Project Engineering Services with our partner, CASE Engineering
Piping and Instrumentation Diagrams (P&ID)

Equipment and Project Cost Estimates

Detailed Engineering

Equipment Procurement

Start-up and Consulting
Consulting Services
Risk Management Plans

Process and Safety Reviews

Air Permitting
Our follow-up maintenance and support plan ensures customers of on-going help and guidance with regulatory and community concerns. Commercial facilities that use our system have been operating for four years. Our scale-up is based on a first principals chemical engineering design and implementation that reflects the Presidents', Peter Joyce, 35 years of technology development in the chemical industry.
Methyl bromide is an ozone depleting substance and destroys ozone in the upper atmosphere that protects from Ultra-Violet rays from the sun that cause skin cancer. Here you can find more on the methyl bromide issue.
Through 2021, our installations in California and Florida have scrubbed out over 125 tons of methyl bromide emitted in over 3,800 fumigation cycles encompassing nine years of operation.